The Daily Extend has actually been not up to its name since February; we had loosened the pace to have it published every two days. But we can do some time bending back, especially as June is the Daily Extend 20 day challenge.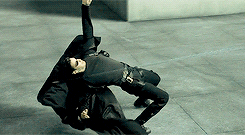 Woah, Neo.
We just bent time back, and are now back on a daily pace.
How do you bend time? Or does time bend you? What kinds of ways do you deploy your Experimenter Module chops to do this? What is your relationship with time? Show us in an image, a clever tweet, or a non-Matrix GIF.
Tweet your response to @ontarioextend and be sure to include the hashtag #oext362